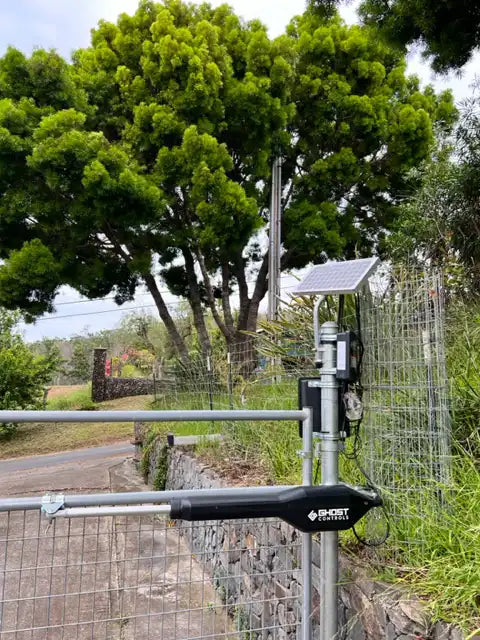 Automatic driveway gates can enhance your residential property while still allowing you to maintain your desired design and functionality. Electric gates can be customized to slide, lift, or swing to best fit your space, and can be either tubular style gates, decorative, wrought iron, or chain link to suit your taste. Automatic gate openers can be a great addition to any property, no matter the location or size. In this article, we will explore the top 5 benefits of automatic gates for your home.
5 Benefits of Ghost Controls Automatic Gate Openers!
1. Exclusive Property Perimeter Control 
Installing an automatic gate opener gives you the freedom to control the visitors on your property and minimize unwanted disturbances. Homeowners enjoy an added privacy boost and enhanced safety precautions, especially when gates are regulated by a code or keypad. If security is a top priority for you, an electric gate for driveways could be the ideal next step. Some homeowners choose to add cameras to their front gate area to further fortify the exclusivity.

2. Convenient Entry
A major advantage of automatic gates is that convenience is never sacrificed for homeowners and residents. If you choose to have a gate opener and a keypad with a designated gate code, you're guaranteed superior ease of entry. This is a large advancement for any homes that currently have a manual gate that requires opening and closing the gate by hand. You're able to stay in your car and enter your property promptly, while still receiving all the benefits of a security gate.

3. Enhanced Curb Appeal and Property Value
Electric and solar gate openers on driveway gates instantaneously enhance your curb appeal, regardless of the size and stature of your house. Homeowners are attracted to the luxury and ease of use that comes with automatic gates. That being said, it's a great add-on to enhance your property value if you are looking to sell. Automatic gates are ideal for all properties, especially those with long driveways or plots of land far off the street.

4. Protection for Children and Pets 
If you have an active family with children and pets, an automatic gate ensures your loved ones can play freely outdoors. Many parents enjoy added peace of mind knowing their kids can't reach the street and pets won't leave the property. Automatic gates provide just as much security for residents on property, as it does for warding off unexpected visitors.

5. Versatility
Automatic gate technology has evolved to exceptional heights in recent years, giving homeowners enhanced versatility in design and function. Whether you are looking for an electric gate or solar-powered gate opener to fit a tubular style or decorative style gate, there are plenty of kit options available that will suit your needs. Today, automatic property gates are created for maximum durability and protection, so you run into minimal technological problems.
Find Your Ideal Ghost Controls Automatic Gate Operator Today.
Here at Ghost Controls, we make it easy to customize the perfect automatic gate system for your home. We offer custom single or dual automatic gate kits including heavy-duty, decorative, the manor series, and the exclusive ghost pro series. Our goal is to streamline the installation process while guaranteeing a reliable, quite automatic gate opener system. We offer a limited lifetime warranty on our gate openers* and free shipping on US orders over $99!
Are you ready to find your new automatic residential gate opener? Contact us today at 850-846-6400 or find more information here at ghostcontrols.com