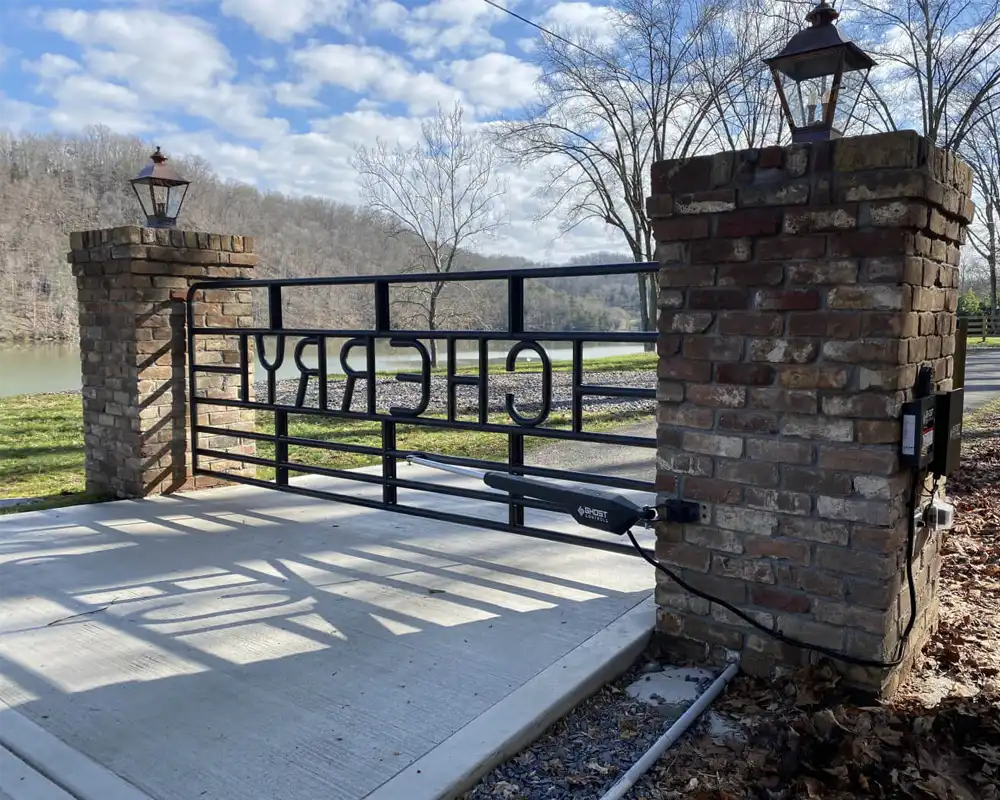 Why Ghost Controls? If you're in the market for an automatic gate opener, you have several options available for finding the right solution for your home, farm or other property. Heavy duty automatic gate openers provide security, help ensure privacy, increase your property value and even lower your insurance premium. If you have a battery powered gate opener installed at your farm, it keeps livestock in and helps to keep predators out, while still allowing you to easily access your property with little more than the push of a button.

 Automatic gate openers have a lot in common, most obviously looking similar and opening and closing when activated. However, looks can be deceiving, and our company is on a mission to separate itself from the field. Why Ghost Controls®? Our single and dual gate opener kits come with superior customer service, decades of experience in design and development, and innovative features that make Ghost Controls® the leading regular and chain link gate opener manufacturer on the market.
Unmatched Customer Service
The Ghost Controls® team prides itself on providing the best customer service in the automated gate industry, and our team knows that providing customers with a quality product is absolutely essential to their satisfaction and our success. However, when there is an issue, we offer multiple methods to receive help with your Ghost Controls® opener kit, add-on or accessory – including contacting the Ghost Controls® support team by phone or email.

There also is an extensive online support site, which offers a complete catalog of topics, videos and discussion to assist you with your installation or product support.

The Ghost Controls® Limited Lifetime Warranty covers defects in materials and workmanship in the opener's motor and gear assembly for the lifetime of the product. Learn more about our warranty by visiting our warranty details page.
Decades of Experience
The Ghost Controls® management team has more than 70 years of combined experience in automatic gate opener design and development. Our team has researched customer-identified deficiencies in existing products from other manufacturers and is dedicated to overcoming those barriers to develop and build the highest quality automatic gate openers in the industry.

 We have learned that gate owners want electric gate openers that work when needed, open swiftly and operate without noisy components – which is why we've proudly engineered our remote gate openers to be fast, quiet and invincible.
Easy Installation and Seamless Customization 
Ghost Controls® is committed to providing an easy automated-gate solution for our customers. Our do-it-yourself swing-gate opener kits include complete step-by-step instructions to help you automate your gate in just a few short hours with the tools you likely already own.

Additionally, with nearly everything you need to start operating your single or double swing gate included in your DIY kit (battery not included), it's easy to turn your old cumbersome electric driveway gate into one that you can open and close like magic for years to come.

As important as easily installing your automatic gate opener is ensuring that it is seamlessly integrated into your system with features that suit your lifestyle. From solar panels to gate locks to wireless remote transmitters and keypads, Ghost Controls® offers accessories that allow you to customize your system. You can also easily retrofit or replace accessories after your installation.
Intelligent Innovations
Ghost Controls® holds several patents and patent-pending innovations that allow our gate openers and accessories to stand out from other products in the market. These features offer convenience, without sacrificing safety, security or reliability, which is why Ghost Controls® systems are more intelligent.
Party Mode
Party Mode opens a Ghost Controls®-powered gate and keeps it in the open position as long as desired, so friends and family can enter or exit without a gate code or remote transmitter. Party Mode® can be enabled from a remote transmitter or keypad, without having to access the control box.
Vacation Mode®
Vacation Mode® can be enabled from a Ghost Controls® keypad and locks out all authorized remote transmitter operation until deactivated – meaning no one can enter through your driveway single swing gate with a remote transmitter that wasn't returned or an old keypad code that you forgot about.
Safe Force®
Safe Force® is a patent-pending feature that automatically limits the amount of force the opener system will exert on the leading edge of a moving gate – helping prevent injury to people or animals and allowing for a much simpler installation – without the need for additional equipment, such as photo eyes or other types of sensors.
Ghost Code®
Ghost Code® is the secure technology available only on Ghost Controls® single and dual automatic gate controllers. This proprietary software has more than 4 million possible code combinations so that only authorized remote transmitters, keypads and vehicle sensors can activate your system. This prevents your system from being rigged or hacked.
Solar Compatibility
All Ghost Controls® systems are solar compatible, meaning you can make your driveway swing gate operator solar powered. Using renewable energy with a solar automatic gate opener is a great way to go off the grid when not in range of an AC power source. Each solar operator uses a Monocrystalline structure to deliver energy to your solar gate opener, keeping it powered as long as the sun is out.
Availability
Ghost Controls® dual and single gate opener kits and accessories are available right here on our website, or you can purchase many of our products through large online retailers, such as Amazon.com, TractorSupply.com, and HomeDepot.com.

If you're searching for Ghost Controls® swing gate openers in local brick-and-mortar stores, our products are proudly sold at Ace Hardware, True Value, Southern States, Murdoch's Ranch and Home Supply, Orscheln Farm & Home, ASC Agri Supply, C-A-L Ranch Stores, Jax Mercantile Co. and other local farm and feed stores.

You can find an authorized Ghost Controls® dealer near you at our Dealer Search Page and discover the Ghost Controls® difference today.